Kindred Fellowship Program Announces Summer 2022 Cohort
Kindred World is proud to announce the Kindred Fellowship Program's Summer 2022 Cohort. The six fellows were chosen from over 40 applications for this year's program.
Kindred Fellowship is a new Kindred World initiative whose unique mission is to guide students on an innovative educational journey that explores the systemic roots of social (in)justice in childhood through Kindred Activism: a theory of activism centering childhood in activism that is authentic, relational, and imaginative. The program has been featured on the Centers for Partnership Studies Leadership blog, the Rutger's University's Childism Institute blog, and in an ongoing series on Kindred Media.
"We are honored to welcome our new fellows and look forward to exploring and expanding insights into centering childhood in social justice," said Darcia Narvaez, PhD, Kindred World's president.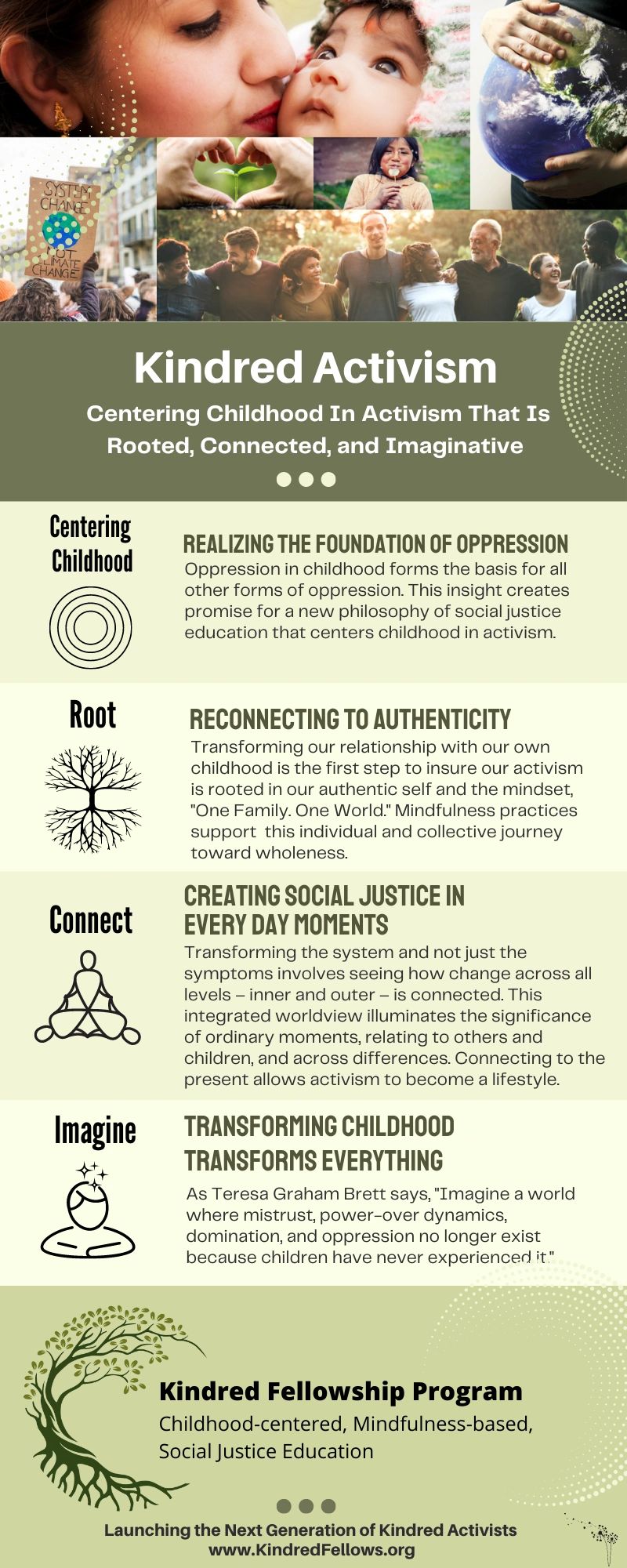 The program, its concepts, and curriculum were developed over a year – during quarantine – by a dedicated team. "I am thrilled to co-facilitate this adventure with our amazing fellows to explore the promise of activism that is authentic, relational, and imaginative. Buckle UP it is going to be a fun journey!" said David Metler, KFP Team member. "This program is a living, creative process designed to support each of the fellows in a lifelong, sustainable pursuit of kindred activism," said Reshma Grewal, KFP Team member. "We are excited to welcome our 2022 Cohort!"
The Kindred Fellowship Program will guide fellows across Kindred Activism, connecting inner and outer activism instructed by Kindred thought-leaders from across the world. We are overjoyed to have an all-star lineup of instructors for our 2022 KFP program including:
Our 2022 KFP instructors include dedicated and dynamic professionals. We are overjoyed to welcome for 2022:
– Dieudonne Allo (South Africa) Dieudonne Anumbosi Allo from the Eastern Cape in South Africa is the Founder and CEO of the Global Leading Light Initiatives, a registered non-profit organization formed in 2014 on a strong conviction that collective prosperity can be achieved in Africa and globally through coordinated grassroots initiatives aimed at creating nurturing and enabling environments for children and youths.
– Suzanne Zeedyk, PhD (Scotland) Dr. Suzanne Zeedyk is a research scientist fascinated by babies' innate capacity to connect. Since 1993, she has been based at the University of Dundee (Scotland), within the School of Psychology. Her academic career began in the USA, where she completed her PhD at Yale University.
– Wesley, Bugg, JD, (Georgia), of Reaching Our Brothers Everywhere, ROBE. Wesley Bugg is currently the deputy director of Court Vision International Inc., a nonprofit that promotes youth advocacy and conflict resolution. His current interests include legal compliance and business development, especially for startups and small nonprofits where these tasks are often expensive and difficult. In this spirit, he serves ROSE as the Legal Compliance Officer and financial assistant, aggregated into his role as Financial and Legal Operation Coordinator.
– Four Arrows, (California) Wahinkpe Topa (Four Arrows) is a professor at Fielding Graduate University. Former Director of Education at Oglala Lakota College, he is a made-relative of the Oglala and a Sun Dancer. Selected by AERO for their text Turning Points as one of 27 "Visionaries in Education" and recipient of a Martin Springer Institute for Holocaust Studies "Moral Courage Award" for his activism, he is the author of more than 20 books, praised by such notables as Noam Chomsky, Vandana Shiva, Henry Giroux, Darcia Narvaez, Greg Cajete, Sam Keen, Thom Hartmann, and many others. His books, chapters, articles and videos on Indigenous Worldview and its applications for sustainability can be accessed at fourarrowsbooks.com.
– Carey Sipp (South Carolina), Positive and Adverse Childhood Experiences, PACES. Carey Smith Sipp is the Director for Strategic Partnerships for PACES, Positive and Adverse Childhood Experiences. She is a science, brain, health, and parenting enthusiast who learned about the ACE Study almost 20 years ago. As the Southeastern community facilitator for PACEs Connection, Carey uses four decades of experience as an award-winning writer, marketer, fundraiser, and campaigner to help PACEs initiatives in 11 states create communities on PACEsConnection.com, find resources, and leverage opportunities to take trauma-informed practices into new and existing sectors.
– Teresa Graham Brett, JD, (Arizona) Teresa Graham Brett, J.D., is a Kindred contributing editor and a board of director member of Kindred World. She is the founder of the Kindred Parent Liberation Alliance and Project and the author of Parenting for Social Change. Teresa is the Assistant Vice President, Diversity and Inclusion, at the University of Arizona.
And we will be welcoming back our 2021 Cohort Graduates, Jenna Wes, Kendall Lobdell, and Kambria Farwell. Learn more about 2022's instructors here.
Facilitating the program will be the Kindred Fellowship co-founders, David Metler, Reshma Grewal, and Lisa Reagan.
With the mentorship of Kindred's network of thought-leaders, Kindred fellows will be prepared and supported to launch their own innovative community action ideas and begin a life-long journey of maximizing their impact on social justice issues and cultural transformation.
The 2022 Kindred Fellowship Program begins June 14th and ends July 30th. Our Kindred Fellows will be sharing their insights from the KFP experience and their plan-of-action for community engagement integrating Kindred Activism in the final showcase presentations. All are welcome to attend and support our fellows on their next steps. (Date to be announced.)
KFP's 2022 Cohort shares their thoughts on why they applied for the program:
"I am so looking forward to learning how to apply the Kindred Activism philosophy in my day-to-day life and future work. I will be learning from the instructors and kindred fellow graduates who are activists themselves. I want to get to know them and the initiatives they currently lead or are part of. I am really motivated about it, but I am pretty sure, I will be more motivated after the fellowship program to help heal the world through kindred activism."
– Stephany Ayestas, University of Applied Sciences in Potsdam, Germany
"I applied to the Kindred Fellows Program because the organization provides training, resources, and networks around subjects I am deeply passionate about! I believe my learning from this opportunity will help bridge my research with action, in partnership with the young people and communities I serve."
– Courtney Douglass, Urban Education Program at the University of Maryland, College Park
"The Kindred Fellowship called to me because of two main reasons: first, it aligned with my career goal of reform based on childhood. Second, the network of support that the fellows provide for each other to promote life-long growth is something I was looking for during these transitional years of my life."
– Youbin Park, Columbus State University
"What really drew me to Kindred was the social justice perspective based in the childhood experience, the strong community of advisors and fellows coming together to tackle the most pressing social issues of today, with that perspective in mind, as well as the space to develop our understanding of and share what we are passionate about. I look forward to learning more about Kindred Activism and how I can use it in my own life and work through this fellowship!"
– Siri Nibhanupudi, University of Wisconsin-Madison